(a lullabye for my babies)
Close your eyes
little one.
Drift off to dreamland.
And, God will protect you
Underneath His sheltering wing.
Go to sleep
Little one.
Dream of tomorrow;
Where sunshine and bluebirds singing
Will the morning bring.
D.R.A.L. 1994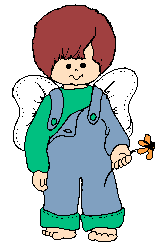 "UNTITLED"
The little nippers,my sweet little men,
Make me smile again and again.
We waited so long for them to arrive.
I am so glad that they are alive.
My boy children, #1, #2,
Never ,leave me lacking something to do.
Toys to pick up, diapers to change,
Something so natural,some days, feels so strange.
For I remember the day, not so long ago,
When I too was a child. In my mind I know.
These little boys will grow to be men.
Things will feel really strange then.
D.R.A.L. 12/97


"baby to boy"

The little man,
He sits.
He stands.
Before he could only lie.
Heís come a long way baby!
From an infant to a toddler,
I have seen him grow.
From sheer babbling to words,
I hear him speak.
From barely moving to walking,
I see him progress.
Tomorrow he will be a man.
Time goes by far too quickly for this mama.
I cry tears of joy.
My baby has become a little boy.
D.R.A.L. 12/97